Inteplast Group Now Offers Broadest Selection of Patient Bedside Plastics, Measurement and Collection, and Waste Containment Products in the Marketplace.
Livingston, NJ, January 6, 2015—Integrated plastics manufacturer Inteplast Group has established a new business unit, Inteplast Healthcare, to align the wide range of healthcare industry products and services offered by its Medegen Medical Products, Minigrip®, Inteplast/Pitt Plastics and Integrated Bagging Systems businesses.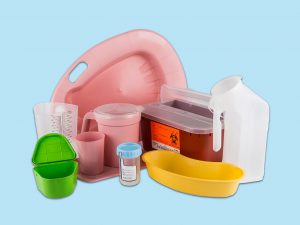 Inteplast Healthcare, a newly formed business unit of Inteplast Group, offers a broad selection Patient Bedside Plastics, Measurement and Collection, and Waste Containment Products. Photo shows some of the many plastic injection molded items available through Medegen Medical Products, an Inteplast Healthcare Company.
The integration of Inteplast's healthcare products provides additional value to the healthcare industry through new sourcing and procurement synergies and is a significant progression for the company. Inteplast Healthcare now offers the broadest selection of Patient Bedside Plastics, Measurement and Collection, and Waste Containment Products in the marketplace.
Inteplast acquired Medical Action Industries' substantial Patient Care business earlier this year and rebranded it as Medegen Medical Products. Medegen Medical Products is the largest manufacturer of plastic injection molded patient bedside items such as urinals, pitchers, emesis basins and bedpans in the United States, and manufactures items such as sharps containers and graduated measures as well.
Inteplast is the parent company for Minigrip®, inventors and patent holders for market leading zipper and specialty medical bags; and Inteplast's Integrated Bagging Systems division and Inteplast/Pitt Plastics both manufacture can liners, laundry and linen bags, bio hazardous waste bags and more for the healthcare industry.
Charles (Chuck) Kelly, former president of Patient Care Products at Medical Action Industries, was named president of Medegen Medical Products and is now leading initiatives at Inteplast Healthcare. Bennett (Ben) Hellming, former general manager, Minigrip Commercial, is leading Medegen Medical Products' national sales team as vice-president of sales, Medegen Medical Products.
"We are in a unique position to service the healthcare industry through our Medegen Medical Products, Minigrip, IBS and Pitt lines of products that comprise the new Inteplast Healthcare," says Dr. John Young, president of Inteplast Group.
"Our experienced nationwide sales force, extensive network of distributors, and relationships with major healthcare group purchasing organizations give us a strong foundation upon which to grow," adds Young. "While Medegen Medical Products is taking the charge of this new division, we believe that the synergies gathered from the other existing Inteplast businesses will greatly enhance the scope and quality of offerings and services provided to our customers."
"Inteplast's renowned manufacturing strength, focus on capital investment and long term vision for Inteplast Healthcare is exciting," says Kelly. "We are developing new products, adding to our existing product line, and look forward to offering broader private label manufacturing as well. This is the beginning of a significant organization that will become increasingly beneficial and relevant to the marketplace."
The entire family of Inteplast Healthcare products is available now to GPOs, IDNs, Acute and Alternate Care facilities, through Medegen Medical Products' sales force. The company will launch a new website in the first quarter of 2015 www.medegenmed.com.
About Inteplast Group
Inteplast Group, established in 1991 and headquartered in Livingston, NJ, is a leading manufacturer of quality products made with plastics. Inteplast Group's markets are wide and synergistic, ranging from packaging to construction to healthcare to foodservice to sanitation and more.
Inteplast Group has more than 50 business locations in North America, encompassing manufacturing, distribution and sales locations; and strong international sourcing capabilities. For more information, visit www.inteplast.com.